Garbage Disposal Problems You Can Solve in Reading, MA?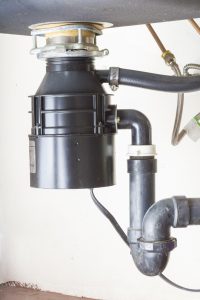 The garbage disposal is our own personal troll that lives under the sink and is always hungry. It is always waiting for its next meal and to eat through our food waste. We feed it and it keeps our sink clear. But what do you do when that troll stops eating?
How Do I Fix My Garbage Disposal?
First, make some room under your sink so you can get a better look at the garbage disposal unit. Most of us keep things under there like cleaning supplies, that need to be moved out of the way.
Next, turn on the garbage disposal and listen. What do you hear? It might be silent, it might be only humming, or you might hear the gears trying to work through something unsuccessfully.
If it is silent, then resetting it could be the answer. Near the bottom of the disposal unit there should be a red button, press it. That should reset the unit. If that doesn't do the trick, do a test to see if it is getting power.
If it is humming, then it's getting power but probably has something keeping the blades from moving. Before you continue TURN OFF THE POWER to the garbage disposal. At the bottom of the disposal there is usually a hex-shaped hole that will allow you to fit a hex wrench into. Try to dislodge whatever is keeping the blades from moving. If that is not a choice, use something like a broom stick in the sink drain to see if you can free the blades.
If it is churning, there could be items that the garbage disposal was not made to chew through. Stringy food waste, such as banana peels, can keep the blades from being able to move well enough to make its way through the waste and clearing the drain. After making sure the POWER IS OFF, try using tongs to pull out as much as possible. That might be just enough help to let the disposal finish its job.
Waldman Plumbing & Heating has been helping the residents of Reading, MA and the North Shore area for over 100 years with their plumbing repairs and installations. Check out our coupons and then give us a call for an appointment.