Understanding the Difference Between Point of Use and Whole House Water Filters in Marblehead, MA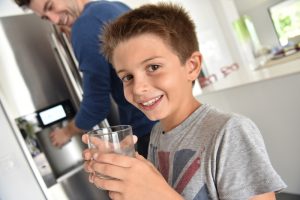 Improving the water quality and safety usually involves some kind of chemical treatment or water filtration, but not all water filters are created equal. Point of use and whole house water filters are effective and popular ways to improve water quality. And while both systems have their respective advantages, you can get more bang for your buck with a whole house water filter!
Water filtration and quality are something we take very seriously here at Waldman Plumbing and Heating, Inc., which is why go the extra mile to ensure your home's water is safe. In addition to installing whole house water filters in a number of local homes, we also provide water softening and treatment services for hard water.
If you still think you can get away with using point of use water filters in your home, here's how and why whole house water filters make more sense!
They protect your plumbing pipes One of the most underrated benefits of whole house water filters is that they help to preserve and protect the lifespan of your plumbing appliances and pipes. That's because whole house water filters remove scale-causing minerals from the water that flows throughout your home, which prevents damaging plaque from building up on the insides of your plumbing pipes and appliances.
Low maintenance and longer lasting Whole house water filters require minimal maintenance throughout their lifespan, which can be as much as 10 years depending on the kind of system you have. Point of use water filters such as pitcher and faucet filters don't last nearly as long!
Filter out even more contaminants Although point of use water filters are effective in removing some contaminants from water, whole house water filters do a much better job and are able to remove a broader range of contaminants. Refrigerator and faucet filters may only filter a select number of contaminants, but whole house water filters can remove much more!
Clean, safe water throughout your home Point of use filters can only purify water at a single source, and not the rest of your home. Whole water filters allow you to enjoy clean, safe, and contaminant-free water throughout your home and not just at one source. This means you can experience the benefits of filtered water at every source instead of a single faucet.
Point of use water filters might be an effective way to improve water quality, but they aren't a long term solution. Whole house water filters can provide every source in your home with clean, quality water for years to come! Call Waldman Plumbing and Heating today and start enjoying the benefits of whole water filters in Marblehead, MA!